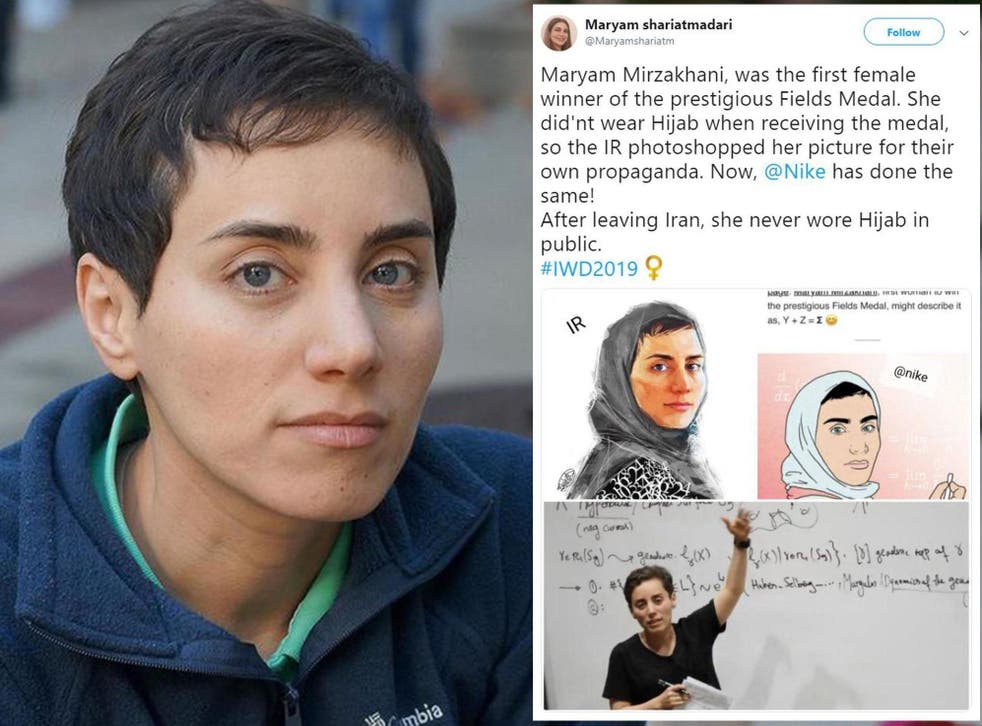 Nike has been condemned for depicting a celebrated mathematician in a hijab, despite the fact she chose not wear the garment while she was alive.
Maryam Mirzakhani, who died of breast cancer in 2017, was the only woman to date to have won the Fields Medal, one of the highest awards in the field of mathematics.
She left Iran after graduating university in 1999 and moved to the US, where she chose not cover her hair.
But screenshots of an internal Nike newsletter sent to staff in its Ascend employee network were shared by a number of social media users.They display a drawing of the mathematician wearing a white hijab, which some on Twitter suggested was based on an image first doctored by Iranian officials for propaganda purposes.
The headscarf is often worn by Muslim women, but many choose not to use the garment.
"Welcome to Women's History Month!" the email from Nike reads, before going on to detail various upcoming events and promotions.
"Maryam Mirzakhani, first woman to win the prestigious Field Medal, might describe it as Y + Z = Σ," it adds.
The drawing of Mirzakhani can be seen below the text, a decision that has attracted widespread criticism.
"This is how @Nike decided to portray Maryam Mirzakhani who was the first woman to win the Fields Medal," wrote Amir Sariaslan, one of the people who shared the images online.
"She never wore the hijab once she had left the country that enforced it. You should be ashamed of yourselves."
While not offering an apology, a Nike spokesperson told The Independent: "Nike respects all people, culture and religions and we take concerns of this nature seriously.
"This employee-led, internal communication was intended to celebrate Maryam Mirzakhani and her accomplishments. It was not intended to offend anyone. We're reviewing our internal processes."
Women who live in Iran are required by law to wear the hijab and are harshly punished for rebelling against the rule.
When Mirzakhani won the Fields Medal in 2014 some newspapers in the country digitally altered her photos and added a hijab to her image.
Others used sketches of her wearing the hair covering or used older photographs of Mirzakhani, dating from the time she lived in Iran and had to wear the hijab.But multiple Iranian newspapers broke a taboo when the mathematician died in 2017 and published images of her with hair uncovered.
https://www.independent.co.uk/news/world/middle-east/nike-hijab-maryam-mirzakhani-iran-newsletter-mathematician-a8815516.html