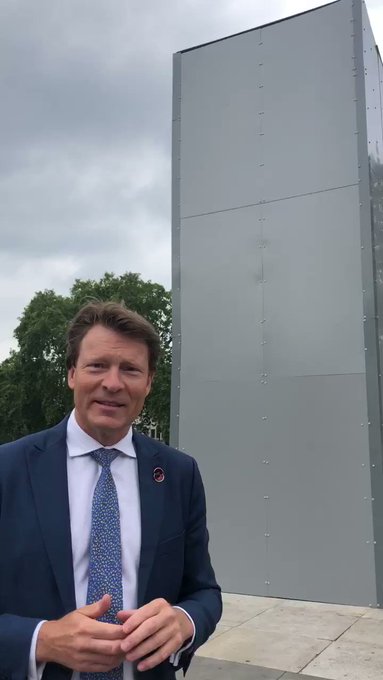 Outrage has been sparked after the Mayor of London Sadiq Khan ordered the statue of Sir Winston Churchill in Parliament Square to be covered by a metal box ahead of this weekend's planned Black Lives Matter protests.
UK Prime Minister Boris Johnson and conservative British lawmakers have slammed Khan's decision to board up the monument, with some accusing the London mayor of "surrendering" the capital's streets "to the mob".
In response to Khan's shameful act of cowardice, Boris Johnson took to Twitter, writing: "The statue of Winston Churchill in Parliament Square is a permanent reminder of his achievement in saving this country – and the whole of Europe – from a fascist and racist tyranny."
"It is absurd and shameful that this national monument should today be at risk of attack by violent protesters. Yes, he sometimes expressed opinions that were and are unacceptable to us today, but he was a hero, and he fully deserves his memorial."
"We cannot now try to edit or censor our past. We cannot pretend to have a different history. The statues in our cities and towns were put up by previous generations."
Although Boris did not mention the London mayor by name, his stream of tweets were posted after multiple Conservative MPs roasted Khan for covering up the monument instead of deploying police officers to protect it.
Richard Tice, a British businessman and former Member of the European Parliament, on Friday posted a video of the boarded up monument to Twitter.
"This is wrong, wrong, wrong," Tice says. "The greatest Briton, Winston Churchill, has gone. He has disappeared. He has been hidden, because the Woke Warriors seem now to be winning over the United Kingdom. I say to the Prime Minister, I say to the Mayor of London, this hoarding has to go. Winston Churchill must reappear here in Parliament Square, the mother of democracy, immediately!"
voiceofeurope.com/2020/06/uk-sadiq-khan-bows-to-the-mob-and-boards-up-winston-churchill-statue-video/