Reports are that the German government is doing everything in its power to make sure this video is not seen. While Turkish language videos are up, German and English ones are disappearing from social media apparently.
The Tweet below is from a known German financial consultant, a managing director of Goetzpartners.
Dr. Markus Krall, is a German economist, risk manager, management consultant, author and lecturer on monetary policy issues. Since September 2019, Krall has been a member of the board and spokesman of the management of Degussa Goldhandel GmbH. He represents an ordoliberal concept of the economy and is close to the Austrian School.
(I believe the Austrian School is Hayek. I wait to be corrected)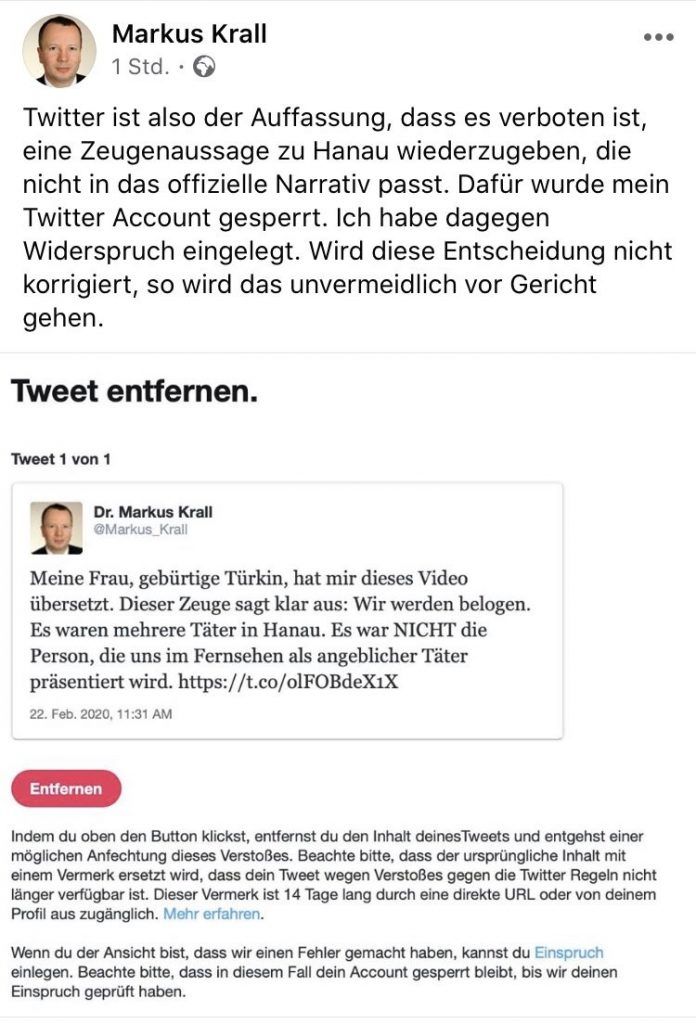 Exact translation of Krall Tweet: My wife, who was born in Turkey, translated this video for me. This witness clearly says: "We are being lied to. It was more that one perpetrator in Hanau. It was NOT the person, that is presented to us as the perpetrator on television."
(The segment where he says we are being lied to, is not in the first 2 minutes which we did)
According to MissPiggy, several people who posted translations of this video have had their entire German twitter accounts suspended.
Special thanks to RAIR Foundation and Luke Montgomery for the translation.
vladtepesblog.com/2020/02/25/was-the-mass-shooting-at-midnight-shisha-bar-yet-another-german-false-flag/