By Iven Peters
A lefty with a breast pocket handkerchief? You rarely get to see that. But yesterday, Tuesday, Niko G. dressed up. Because he was sure of the attention of a larger audience – in the courtroom of the Stralsund Regional Court. There the 21-year-old has to answer for the murder of the 18-year-old pregnant Maria K. together with his 19-year-old buddy Nicolas K.. The shocking act had made international headlines.Pure murderous lust has persuaded the young men to kill their mutual acquaintance brutally. At the beginning of the trial, one of the accused described "cruel details of the crime, which should not be further described at this point", according to an article on the rtl.de website. Why? One wanted to see a person die.Another common feature of the killer pair has so far been suppressed by the otherwise fully reporting press: both Niko G. and Nicolas K. have something "against Nazis". At least this is what emerges from their publicly visible Facebook profiles."Nazis are more annoying than wasps," Niko G. stated on September 1, 2018 via Facebook profile picture.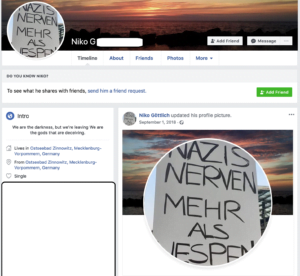 Screenshot Facebook
This is a popular saying amongst the loony left, which is not only displayed on banners at rallies, but also on shirts, cloth bags, coffee cups and similar rubbish on the Internet. With the profile picture of Niko G., the intellectually rather undemanding statement is now coming to the attention of a larger audience.Nicolas K. became even more specific. He presents himself masked on a photo uploaded on the 24th of June 2017, wearing a shirt with the inscription " do-gooder and town-improver".
The text may be interpreted as a cynical reference to the left-wing extremist culture of violence of the Antifa. The dark picture is adorned with the statement "FCK AFD". Who would have thought that on an island in the Baltic Sea there would be such courageous resistance against that opposition party?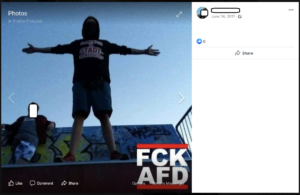 Screenshot Facebook
While the quality press has repeatedly called the murderous duo "Germans," the political stance of both figures has apparently been overlooked. "Philosophia Perennis" is happy to remedy this omission.
One thing is certain:
"The right-wing activists" won't be held responsible for the heinous murder. No breast pocket handkerchief will help.
philosophia-perennis.com/2019/08/21/mord-an-schwangerer-von-usedom-das-moerderherz-schlaegt-links/